2019 Primary PE and Sport Premium Awards
We will be announcing the winners of the 2019 Black Country Primary PE and Sport Premium Awards during the Primary PE & Sport Premium Conference on Thursday 7th March 2019.
These awards will celebrate the achievements and good work of our schools during 2018/19.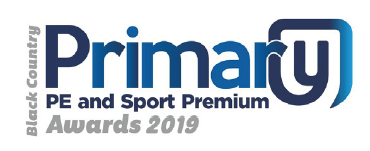 Nominations are now open with the winning schools being announced during the conference.
Click here to download the guidance and nomination form.
The 3 categories available for nomination are:

Physical Activity & Health Enhancing Initiatives
Whole School Improvement
Up-Skilling Staff
The closing date for all nominations is: midnight Friday 8th February 2019 and you must return your completed nomination form to Sanjay Bensal.

The winners of the Black Country awards will automatically be nominated for the West Midlands awards taking place in the Summer term.
If you still need to book your place to attend the conference, please click here. It is FREE* to attend and workshop places are allocated on a first come first served basis.
If you would like any support with writing your award nomination, please get in touch, or if you have any questions regarding the awards or the conference you can email Tim Aldred or call Tim on 01384 471103.