What are Rainbow Clubs?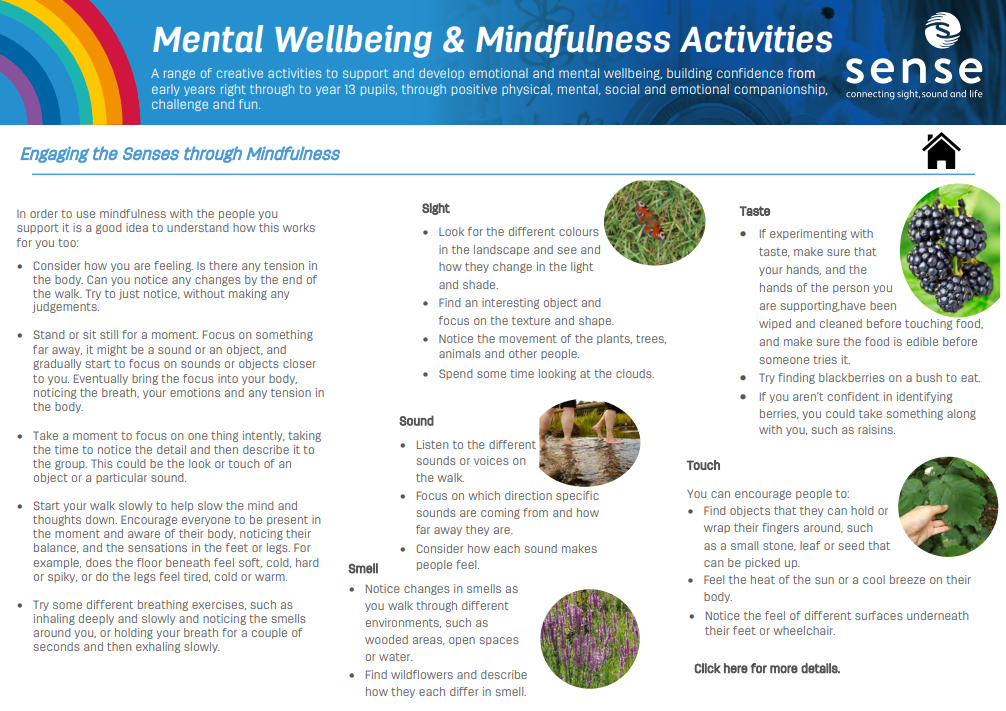 Active Black Country would like to encourage schools to develop the concept of Rainbow Clubs. Using the principles of the Black Country Rainbow Hour, there is a clear opportunity for schools to utilise the 7 strands of activities to establish themed Rainbow Sessions as part of their extra-curricular provision through Breakfast Clubs, Lunchtime Clubs and After School Clubs.
Rainbow Clubs can support the delivery of the Black Country Rainbow Hour across the school day and utilise the breadth of activities created across the Rainbow Books over the past 12 months as well as new editions that are developed moving forwards. The clubs are a great way to potentially hook those pupils who are not engaged in your extracurricular provision already!
Who are Rainbow Clubs for?
Any age group/class or pupils who sign up and attend regular Breakfast and After School Clubs.


Delivery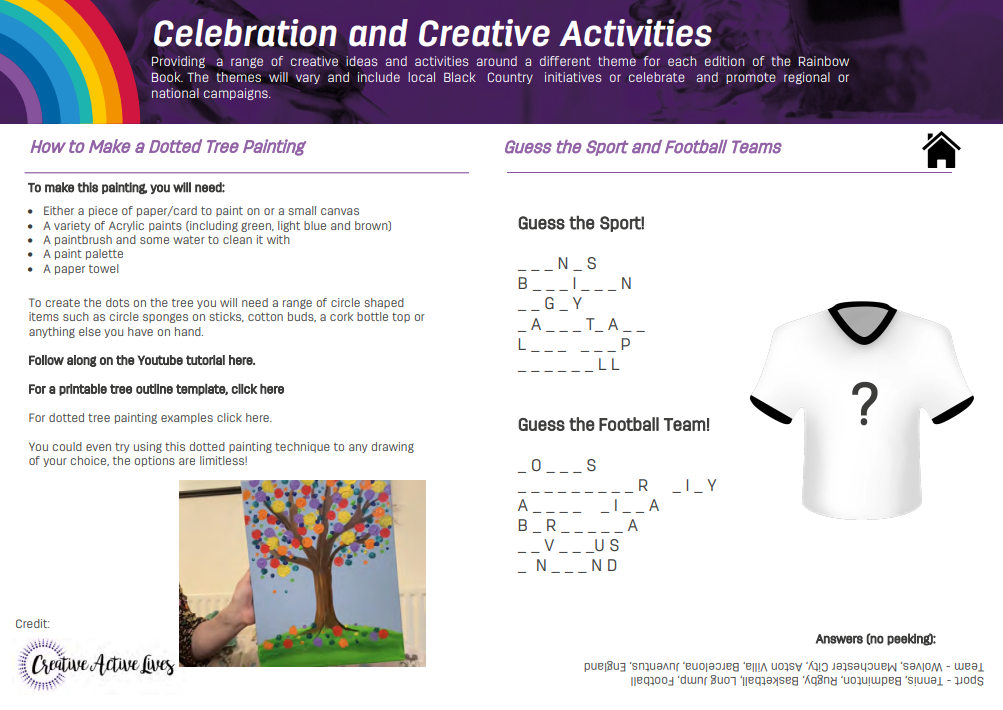 As well as schools delivering their own extra -curricular activities, Active Black Country encourage schools to utilise their external agency provision facilitators to assist schools with this concept and deliver the Rainbow Clubs as part of their After School Club offer. These clubs can provide an excellent way for a school to diversify and increase their offer to pupils by either building on existing provision or being introduced as a completely new concept.

Young Leaders
The Rainbow Clubs is a brilliant initiative for any Young School Leaders to deliver within their school and support staff with facilitating their before and after school provision.


All the Rainbow Club books are available below for you to download: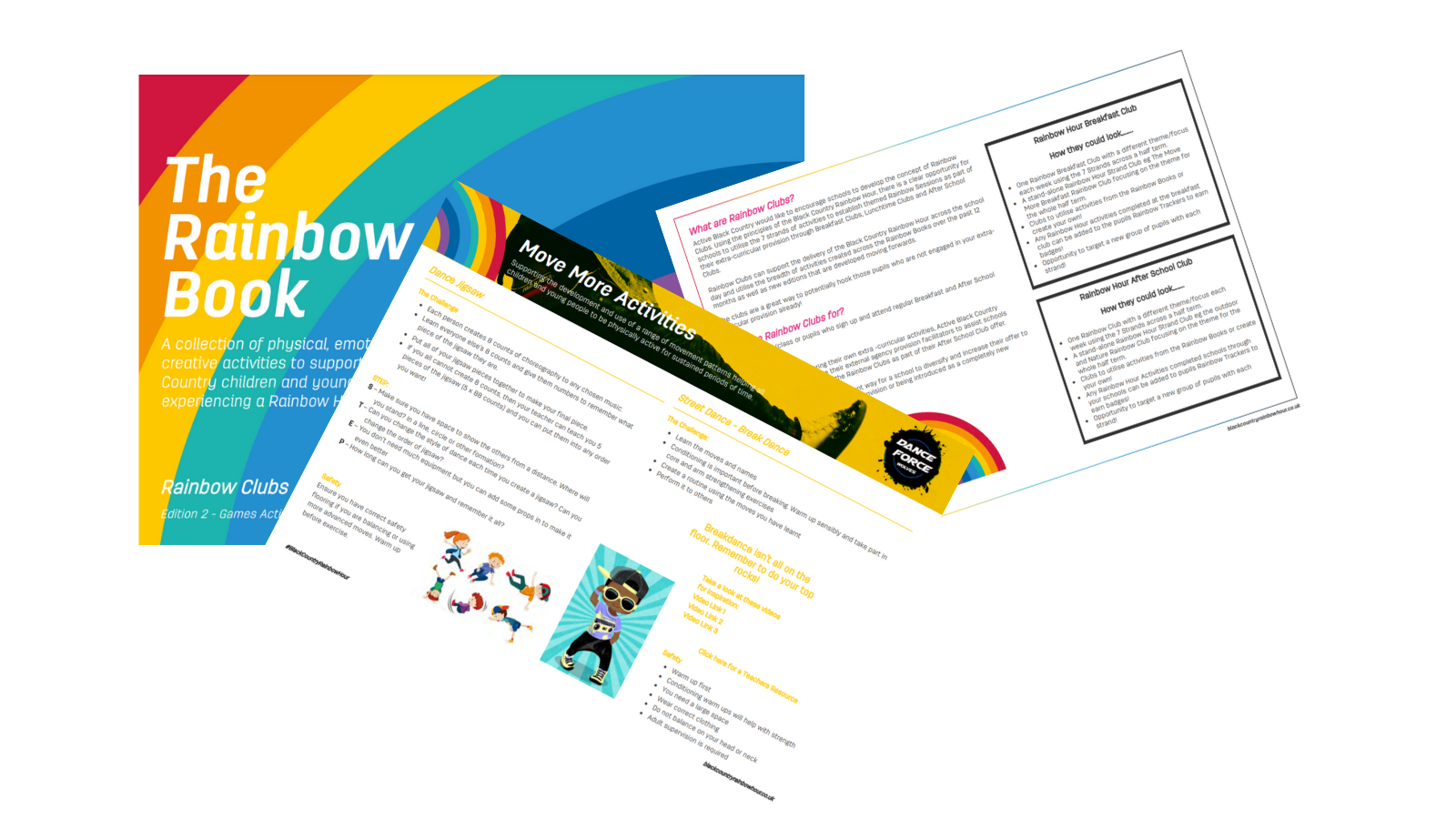 Games Activities
Book 1
Book 2
Move More Activities
Book 1
Book 2
Health and RSE Activities
Book 1
Book 2

Mental Wellbeing and Mindfulness Activities
Book 1
Book 2

Outdoor and Nature Activities
Book1
Book 2
Personal Challenge Activities
Book 1
Book 2

Celebration and Creative Activities
Book 1
Book 2
For more details on Rainbow Clubs, please email Leah Goode.