Get Yourself Active at Home – New Timetable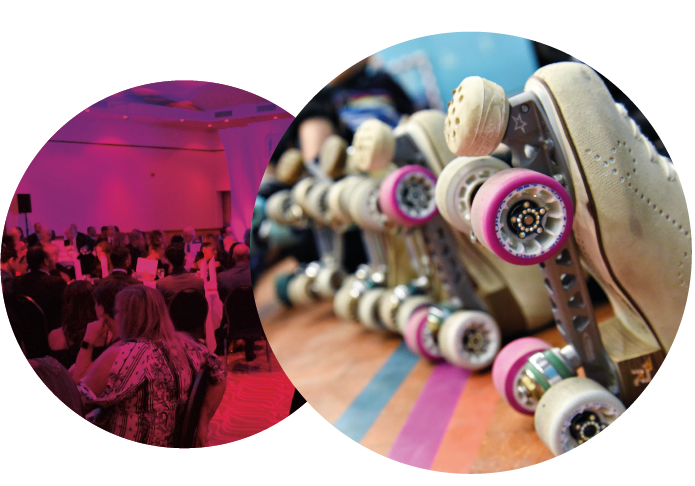 05/01/2021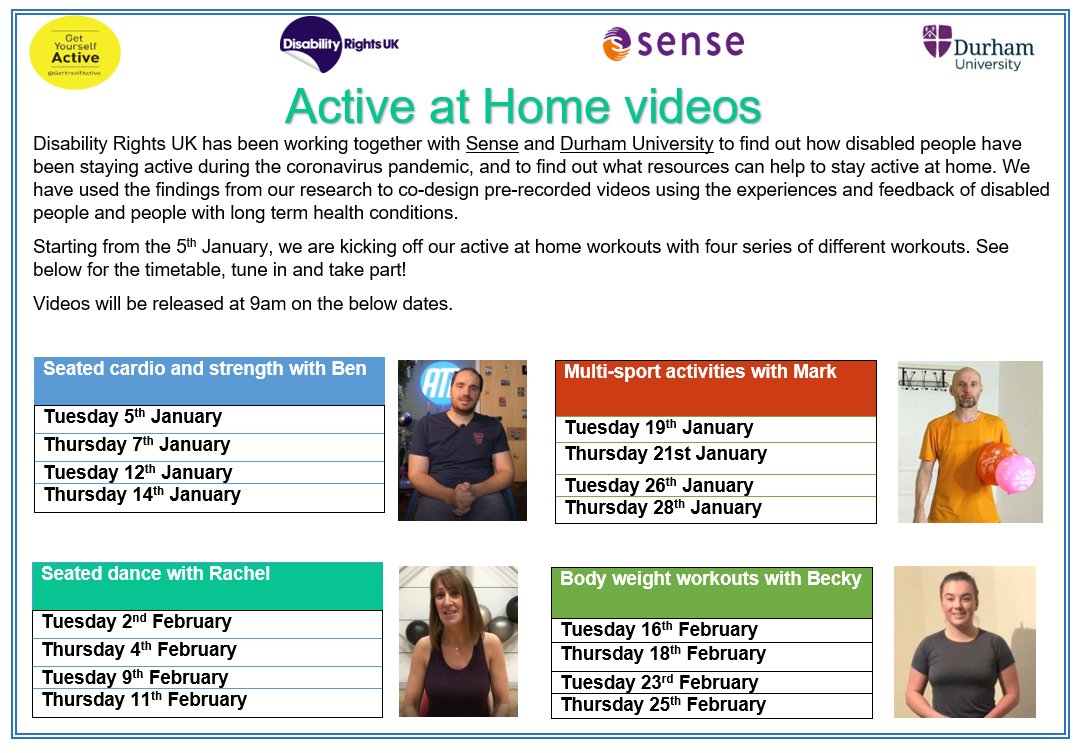 Article: From Sense Charity
The new 'Get Yourself Active at Home' timetable is now available and videos will be released in January on to our new YouTube channel. These pre-recorded videos are designed to support disabled people and people with long term health conditions to be active at home.
The timetable includes four series all led by different trainers and involving a variety of different activities that can be carried out from the comfort of your home.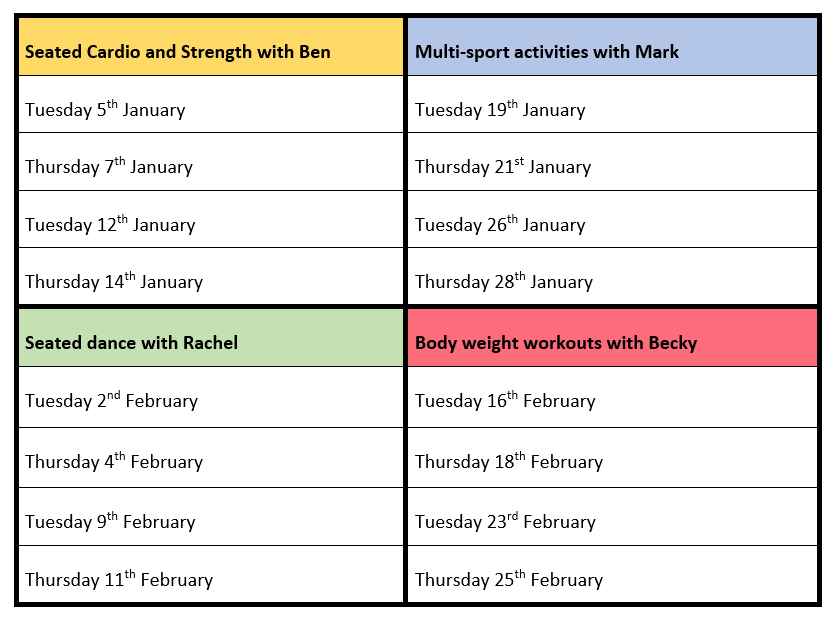 Videos created from research
The 'Sport England Active Lives Coronavirus Report' (Oct 2020) shows that disabled people's activity levels were disproportionately impacted by the pandemic and they experienced a larger increase in inactivity levels. 56% of disabled people with 3 or more impairments are now inactive, rising by 11.2% from last year.
During this difficult time, it is more important than ever that we are supporting disabled people to be active in a way that is right for them.
The Get Yourself Active team at Disability Rights UK have been working with Sense and Durham University to find out how disabled people have been staying active during the coronavirus pandemic, and to find out what resources can help people to stay active at home.
Our survey was completed by over 450 disabled adults from across the UK, and we also interviewed 40 people to talk to them in more detail about their experiences and what they would like from future resources.
We have used the findings from our research to co-design accessible and inclusive pre-recorded videos using the experiences and feedback of disabled people and people with long term health conditions.
Liddie Bone, Get Yourself Active Project Manager, who led on the development of the resources, commented:
It's more important than ever that disabled people are given opportunities to be active in a way that is right for them. What started as a small research project during the first lockdown has grown into a larger piece of work where we have now used our research to develop our own resources to support disabled people to be active at home. This not only means the videos are created using what disabled people have told us, but will mean the videos are accessible and as inclusive as possible."
Alissa Ayling, Sense:
Being active at home is still a new concept for many, and accessible online content for disabled people is limited. We are delighted to be working alongside Disability Rights UK and Durham University on this insight-led initiative, ensuring that there are more opportunities for people to engage. The Covid-19 pandemic has highlighted inequalities that disabled people already faced and presented new ones in terms of accessing physical activity. This work has been vital in terms of breaking down barriers and providing new and engaging opportunities for people to keep active."
Professor Brett Smith, Durham University:
This work is impressive not least because it is informed by a strong evidence-base. Captured through survey's and interviews, over 450 disabled people's voices informed what resource to develop, what and who should be in it, and how it can be made usable. The videos are not only timely by helping to support disabled people get and stay active during these challenging times. The fact that the videos were created through research rigorously conducted with disabled people also lays a foundation for how future resources can be developed so that they achieve maximum impact."
Get Involved: Take part, share, and promote:
Take part: Subscribe to our new Youtube channel and keep an eye on the timetable to see when videos will be released.
Promote: Please share our YouTube channel and timetable via website articles, newsletters or social media.
Social Share: When sharing the resource on social media, please use our social tags @GetYrselfActive @sensecharity
For more information, please contact Liddie Bone – Get Yourself Active Project Manager at lydia.bone@disabilityrightsuk.org


SUPPLIER HUB
The go-to place for schools to find local organisations to support their physical activity provision.

INSIGHT HUB
Timely data and learnings in relation to physical activity and sport in the Black Country and the added value we can offer.

TRAINING HUB
Resources and videos to support the Black Country sport & physical activity workforce, sports clubs and community organisations.
Our Latest Tweet

Follow us on Twitter @BCbeactive